---
Fitness bands ( bracelets ) are simply must accessories in this SMART age. Do you know what exactly they do? It can track your movement and save it into our mobile phone.  The bracelet has recently become a real phenomenon. On AliExpress, you can find many kinds of bands. I have picked several of them and decided to test it for you. Basic functions are mostly the same, although in some cases you can find differences.
Fitness bracelet is good to wear constantly, because it measures your steps, calories, heart rate, sleep or activity. Bracelets are paired with your phone via Bluetooth, and the data is transmitted. When you have paired the bracelet with your mobile phone, it will show  you who is calling you, send you sms alerts and notifications that you pre-set. Bracelet stores data on his memory, so it does not has to be always connected. When you will pair it with your mobile phone it will immediately synchronize all data.
---
Xiaomi MI BAND 2 – Winner of Year 2016
This bracelet Xiaomi Mi Band 2 won AWARD for the best fitness bracelet of year 2016. Xiaomi is well known brand and its advantages are waterproof and great battery life. This bracelet consists of two parts. The first is a capsule with a display and a second bracelet itself. When charging, you need to remove the capsule. Don`t worry about this step as it is very easy to do. Bracelet baterry last up to 30 days.
After instalation of your mobile application, you would need to connect to you Xiaomi account. If you don`t have it, I might take maximum 5 minutes to create it. Basic application (Free) uses only 50% of all features. In most cases it is enough. For full utilization you need to download a paid app from developer  TOOLS MI BAND Band for about 2 EUR. Rubber bracelet can be bought in various colors. On AliExpress  you can buy also metal bracelets.
Advantages:
waterproof IP67
long battery life up to 30 days
the possibility of extending the functions Tools Application with mi band
the possibility to exchange the bracelet rubber for another color. Might be very usefull to fit your daily outfit.
Disadvantages:
 absence of automatic measurement of pulse
while charging, capsule has to be taken out from bracelet.
Video Review on XIAOMI BAND 2:
Real photos: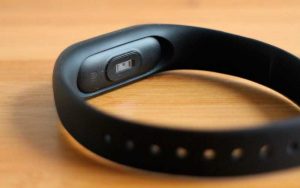 You can buy this fitness wath in this link:
Link: XIAOMI BAND 2
---
U-Band 107HR on Aliexpress ID107
Fitness bracelet U-Band is sold on AliExpress under ID number 107. Like other bracelets, it can measure steps, distance, heart rate and sleep activity. Battery lasts between 10 to 14 days and charging takes about 2 hours. You can download application for your watch on Google Store. Application is called VERYFIT and it is in English language. You will find there a lot of functions like automatic measurement of pulse and entry into the chart, bracelet alarm clock, mobile notifications from incoming calls including caller name. The bracelet has two buttons that control the functions. It is available in one color and it is not waterproof, but is comfortably really fits on any hand.
Advantages:
automatic pulse measurement and registration into the chart
two control buttons
on the main screen it displays the date, time and battery status
Disadvantages:
not waterproof
menu in this watch can`t be configured
Video review U-Band 107  – HR ID107:
Real Photo: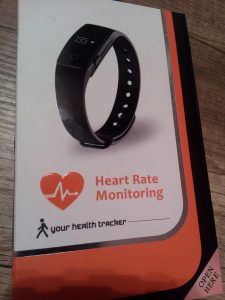 You can buy it in this link: 
Link: U Band 107
Continue reading this article on page 2, where you will find the review on cheapest Fitness bracelet from AliExpress