H96-P DLP Android Pocket Projector Review
Sunday, March 7, 2021
This post currently has no responses.
---
Do you enjoy showing your photos to your family or friends? Do you sometimes want to watch a movie, but you do not have a television in the bedroom? So this type of projector is right for you.
We have prepared a detailed review to tell you all about its advantages and disadvantages.
H96-P DLP pocket projector
This small, very easy to carry projector is a super device. In the dark room, the projector is really great. Because it has only 100 light bulbs, in a light room it is more useable for factual presentations where you do not have to present details of pictures or photos.
Movies and photos
If you want to watch a movie, the H96-P provides good quality to enjoy the movie. At the same time, it's a good device to view photos, but it's not a monitor or top-of-the-line TV. So do not expect beautiful contrasts, HDR or super brightness. However, it is a projector that lets you show photos to your family, friends or colleagues.
Operating system and price
The good news is that the device is running on the Android operating system, so you can easily add new apps or content. At GearBest, you get this H96-P DLP projector for less than 170 EUR. At this price, the H96-P is one of the best choices in price / performance ratio.
Shop here
Technical specification
H96-P Technical Specifications
Projection
Digital Light Processing (DLP)
Native resolution
854 x 480
Brightness
100 Lumens
Lamp
3W LED (rated for 20,000 hours)
Projection distance
0.5 to 3.0 meters
Image size
30 to 300 inches
Aspect ratio
16:9
Display
Keystone correction, trapezoid screen and smart adjustment
OS
Android 6.0.1
SoC
Amlogic S905X
RAM
2GB
Storage
16GB
Wireless
Dual-band Wireless 802.11 b/g/n/ac
Bluetooth 4.0
Ports
2 x USB 2.0, TF card, HDMI, 3.5mm Audio
Miracast
Yes
4K decoding
Yes
Built-in speaker
Yes
Battery capacity
3,500 mAh
Size (L x W x H)
1450 x 785 x 170
Weight
220 grams
Price
US$187.99 [available on GearBest]
What is DLP?
One of the technologies used by projectors is DLP (Digital Light Processing). Other technologies include LCD (Liquid Crystal Display) and LCoS / Liquid Crystal on Silicon. Which is the best?
Every has their pros and cons. For example, DLPs and LCDs stand out in brightness, LCoS offer a darker black and better contrast.
Cinemas use DLP, although of much higher quality.
★ Battery life ★
When streaming youtube videos via wifi, the battery lasts 1,5-2 hours.
Package
The H96-P arrived in a beautiful black box with gold letters, such as premium mobile phones are being packed.
Package includes:
H96-P DLP pocket projector
● Projector case
● Remote control
● Charger (5V 2.5A)
● HDMI cable (not shown)
● Manual
The projector has control buttons on the surface, but it is much easier to operate the device with the remote control. Remote control is nice to touch and the quality is good.
Parts of the projector
The H96-P DLP projector is made of plastic material, has a small weight and a strong metal frame.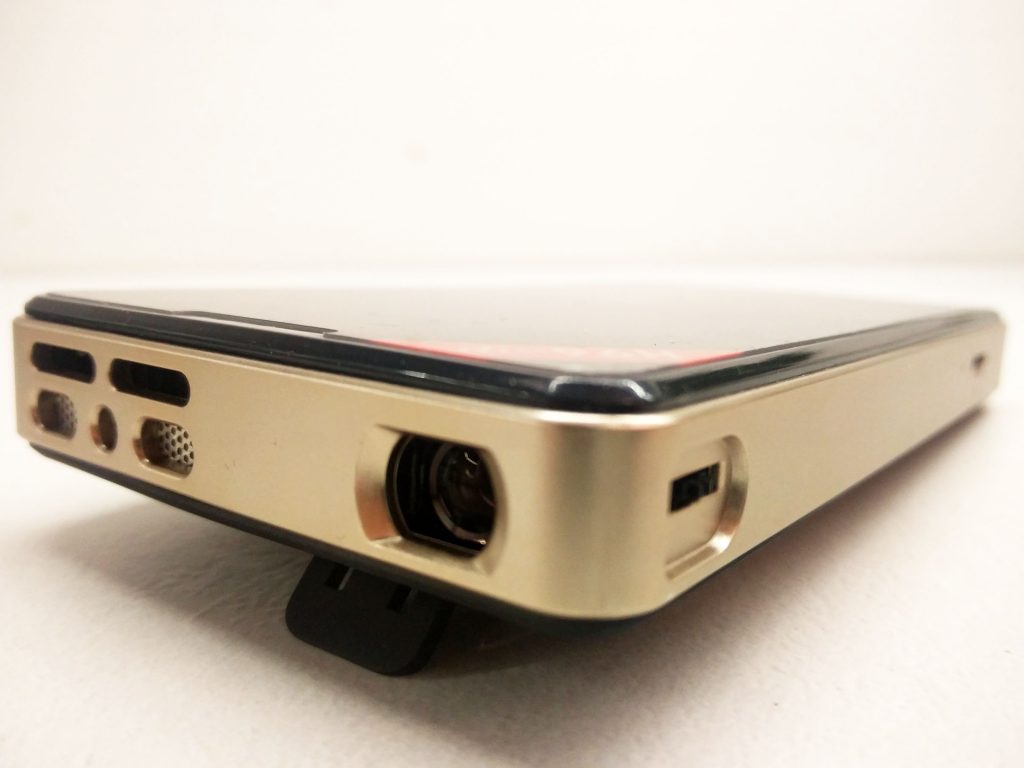 The overall quality is very good. I tis interesting for this price, that H96-P has automatically adjusted the projection so that the image is as rectangular as possible, even if the projector is not directly perpendicular to the wall
On the left side from the lens is thebutton for image focusing. Focusing is very easy and quick. On the same side of the projector you will find a TF card slot or microSD card slot.
To the right from the lens you will find a small speaker and a ventilation space. The projector is small, but has a really good volume. While watching a movie, you do not need to use headphones, you can use external speakers.
On the other side you find HDMI, power supply, 2 USB ports and a power button. This device loaded 64GB USB with no problems.
On the back of the H96-P projector is a 3.5 mm jack for the headphones. It's a good place for the jack, on the other side you find a lense.
On the underside, the projector H96-P has a small tripod that is included in the package. The tripod is a little shaky. Great news is that the thread is of standard size so you can use any other tripod with your projector.
Using of H96-P projector
Since the H96-P is built on Android, you can download a variety of apps from the Google Play Store. You can watch movies from Neflix or from Youtube. Using an external keyboard (Bluetooth or USB cable) is really comfortable. For normal use, the remote control is quite sufficient.
Streaming content over dual-band wifi is without any problem. Similarly, you can use miracast.
The opening screen is simple and understandable. You are well-oriented and can easily use it.

Conclusion
If you want the pocket projector with good performance, the H96-P is a high quality device. But you have to realize that no projector will replace the picture quality of modern TVs. On the other hand, the TV takes up space and also costs a lot more money. The H-96 Pocket Projector is a great choice for this price. Using the miracast or chromecast allows anyone to conveniently share their photos and videos.
---
---