---
Do you own a cell phone and drive cars a lot? You absolutely need this kind of mobile phone holder. We've tested three types of magnetic holder for your. All three have been purchased at GearBest, but you can also buy them at Aliexpress. This type of phone holder makes driving easier for you. You can receive phone calls, or conveniently navigate from your phone. It's really the most comfortable way to fit with what we've ever met.
Magnetic holders for mobile phones
As the name implies, these holders operate on the principle of a magnet. Place the steel plating under the cover or under the cell phone cover or stick it directly onto your mobile phone. The magnet is built into the bracket. A cell phone with a steel plate is just enough to put it on the holder and you can go. You do not have to set up or fix anything. In the picture you can see how it may look. All three mobile holders described below have very similar properties. That's why we first describe them in a general way and then look at the specific ratings of individual holders.
Magnetic mobile phone stand

 – you can hold the mobile phone on the holder with a magnet, making handling very easy and not installing anything on the windscreen or dashboard.
Mounting on air conditioning – These brackets have a special form of attachment that attaches to the air conditioning at one stroke.
Strong magnet – Due to the powerful magnet and grip, the vibration transfer to the mobile phone is reduced.
360 ° rotary joint – you can adjust the inclination or rotation of the mobile phone according to the current situation.
Compact size, flexible and portable
1. ROIDMI mobile phone holder
This phone holder has been the most sophisticated of all experienced and we also actively use it today while driving. We`ve been nicely surprised with the quality of the material and the firm attachment. You can really braking or twisting really fast and your cell phone will not fall as we experience it with cheaper holders. The clamp that holds in the air conditioner is anti-skid and silicone, so it does not run out while driving or handling the mobile phone. Usage is possible on all mobile phones. This holder has no effect on the signal or functionality of your mobile phone.
>> ROIDMI mobile phone holder <<
>> ROIDMI mobile phone holder from Aliexpress <<
Two steel plates are available in the package, ie. one can be used by you and the second one by your girlfriend or wife. Which is very practical. Just order one magnetic holder and use it both. Below you can see a real photo of a magnets holder and a box. The holder is large 5,50 x 3,60 x 3,60 cm and can be ordered in three colors: black, gold or silver.
2. Car holder for CAFELE
This type is a bit cheaper than the above. The Cafele holder has the same basic features as other holders. It`s made of high quality aluminum alloy, resistant to oxidation and corrosion. The size of the holder is 3.90 x 3.90 x 4.50 cm and can be ordered in black, blue, red, gold pink or silver.
>> CAFELE mobile phone holder <<
>> CAFELE mobile phone holder from Aliexpress <<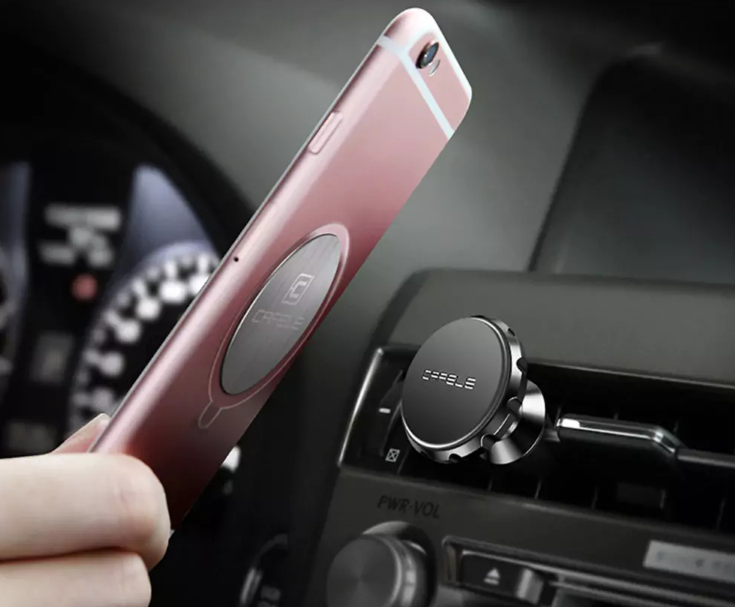 This car holder has shorter clamp, but it is made of non-slip material, so it also fulfills its function.
3. Mobile phone holder
This holder got to the last place. This holder pulls ouf of the fan if you are driving wild through bigger bumps. But it never happened to get out. After 1.5 years using, one foot broke, probably due to heat and fatigue. At that price we were happy.
>> Mobile phone holder <<
>> Mobile phone holder from  Aliexpress <<
The size of the holder is 3.70 x 3.70 x 5.00 cm. The pack contains one larger and one smaller plank. The offer is in four colors, in blue, gold, red or silver.
Example of mobile phone placement in car
Simply mount the holder in the fan. Beware, it can not be used entirely in all types of cars. The picture shows where is the right place to mount the holder and the correct fan type.
This picture shows a real demonstration of fastening.
And then you just put the phone on. Rotation of fan blades is limited by about 15 percent.
You see the phone is holding "loose" on the magnet.
The form of such a car holder is definitely recommended. The full range of magnetic holders can be found here:
>> Mobile phone holder from GearBest <<
>> Mobile phone holder from Aliexpress <<
If you have any questions, please write your question or experience in comment below article.