---
Robotic vacuum cleaners are a practical, convenient and fun way to clean your home. Sometimes the high price can discourage their purchase, but fortunately there are powerful and reliable models that will not ruin your wallet.
We are looking for and testing for you the most affordable robotic vacuum cleaners on the market so we can recommend you the best options at a reasonable price. Our latest discovery is the absolute victory of the iLife A4 intelligent robotic vacuum cleaner.
This small cleaning robot is the second most affordable of all we tested. He was overtaken by his favorite and still sold out Eufy RoboVc11. Both vacuum cleaners are made from the same components and are very similar in design and function. While Eufy is cheaper ($ 219, $ 99) iLifeA4s is commonly sold for $ 249.99. Now Gearbest has an excellent offer ( $ 169.99 ).
You can get great offer of GearBest coupons with GearBest STAR – Pricing history and coupons . In a few clicks, you add the add-in to your browser (Chrome or Opera), and it will show you the GearBest Product History. Thanks to this price history, you will know how much the product was worth a month ago. You can easily compare the price difference and decide whether to wait or take advantage of the super prize already.
FREE INSTALLATION of GEARBEST STAR 
iLife – comparison of robotic vacuum cleaners from Aliexpress and GearBest
iLife V5

iLife V5S PRO

iLife X5

iLife V7

iLife V7S

iLife A4

Floor type

Hardwood
Tile
Marble
Linoleum
Carpets

with low hair

Hardwood
Tile
Marble
Linoleum
Carpets

with low hair

Hardwood
Tile
Marble
Linoleum
Carpets

with low hair

Hardwood
Tile
Marble
Linoleum
Low and Medium

hair rugs

Hardwood
Tile
Marble
Linoleum
Low and Medium

hair rugs

Hardwood
Tile
Marble
Linoleum
Low and Medium

hair rugs

Suction power

600 Pa

550-850 Pa

550-850 Pa

400 Pa

600 Pa

700-1000 Pa

Tray Capacity

10 oz

10 ounces

10 ounces

17 oz

17 oz

15 ounces

Batteries

2600 mAh

Operating Times

90 -120 min

120 – 150 min

90 -120 min

110-140 min

110-140 min

90 -120 min

Charge length

5-6 hours

Filter Type

HEPA

HEPA

HEPA

Double Layer Filter

Double Layer Filter

HEPA

Height

2.751 inches

2.751 inches

2.751 inches

3.15 inches

3.15 inches

2.99 inches

Weight

5 lbs

5 lbs

4.5 lbs

6.5 lbs

6.5 lbs

5 lbs

Max Suction Noise

56 db

55 db

52 db

57 db

57 db

62 db

Cleanup area

92-130 m2

130-185 m2

130-185 m2

130-148 m2

130-185 m2

130-185 m2

Brush

Dry mopping

Wet mopping

Virtual Wall

Mobile app

Warranty

12 months

VGMrv (0-100)

Vacuum evaluation

82

85

88

89

91

92

Buy Aliexpress

Link

Link

Link

Buy on GearBest

Link

Link

Link

Link

Link

Link
If you are looking for links to iLife A6, you have = Aliexpress and GearBest . Reviews for this vacuum cleaner will be ready soon.
iLIFE A4s emits 12.9 grams of dirt per cycle – more than some popular iRobot models
does not have built-in virtual walls or barriers to stay in only one room
has a battery saving program and an auto cleaning setting
IMPORTANT INFORMATION 
More Powerful Batteries – The key to success is the 2600mAh battery, which makes the vacuum cleaner work for 2 to 2.5 hours on a single charge. It has 2 programs (MAX and ECONOMY), selecting can affect battery life. The manufacturer claims that battery life will not decrease over time (unlike smartphones).
IR sensors – IR sensors are built on the front of the vacuum cleaner to avoid obstacles such as chairs and walls. And he also has a sensor that prevents him from dropping from the height, for example, from the stairs. It also has a bumper to avoid damage if the sensor does not catch any obstacle.
Brushes on the sides – Rotating brushes on the sides help to suck dust, dirt and hair into the 1000P draw. Cleaning programs include stain and corner cleaning and preset programs.
HEPA filter – Suitable for people allergic to dust and animal hair.
Remote Controller – Do not use the infrared remote control to bend or lift over a 2-inch vacuum cleaner. There is no smartphone application or bluetooth that you can use to control it, but that's why manufacturers keep low prices.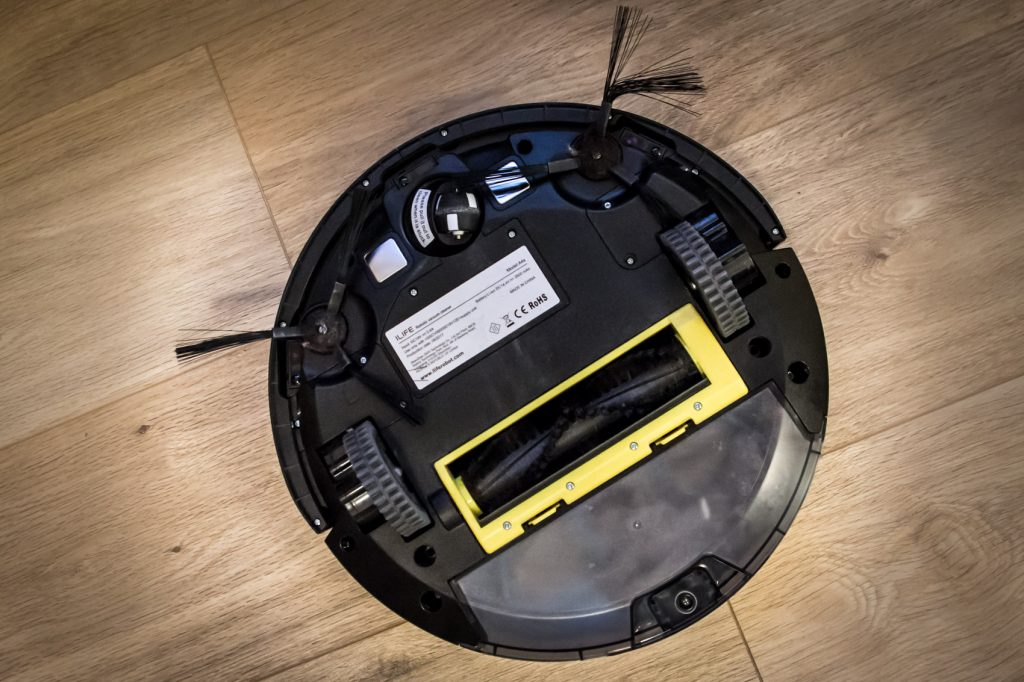 PARAMETERS 
Mechanical parameters
average
310 mm
height
76 mm
weight
2.2 kg
Electrical Parameters
Voltage
14.4 V
battery
2600mAH Lithium Ion
Cleaning
container volume
0.45 l
charging type
auto charging / manual charging
cleaning programs
car, spots, corners, daily program
charging time
300 min
cleaning time
120-140 min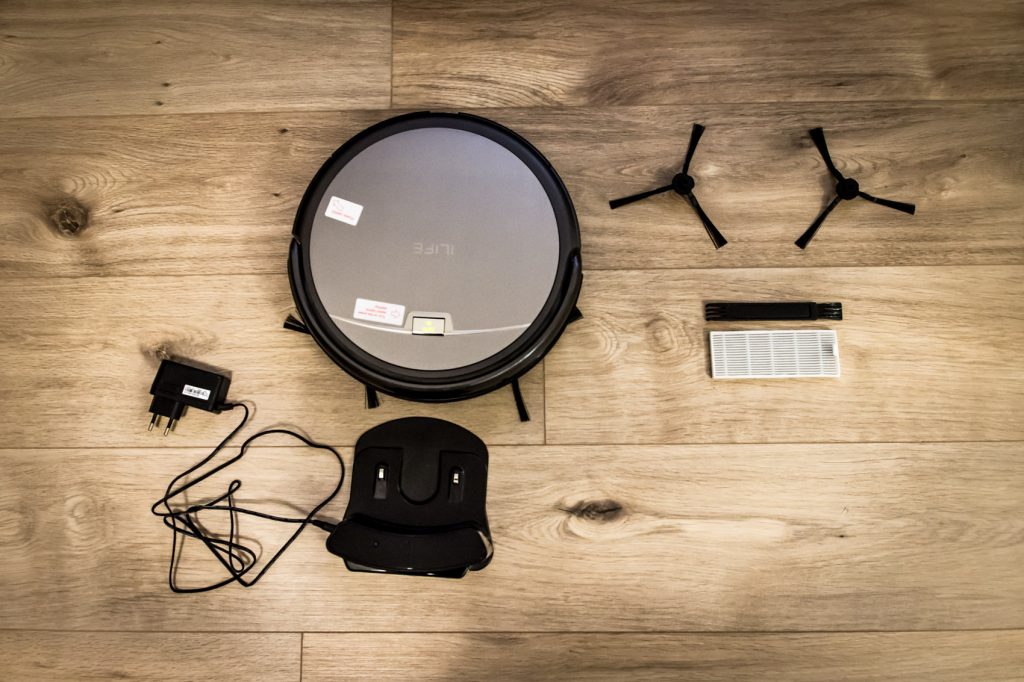 WHAT WE WANT 
in terms of quality, it has a great price, spare parts are cheap (brushes, bristles, filter) so you can use the vacuum cleaner for a long time at low operating costs
sucks crumbs, hair, dirt, even dog hair fairly well
cleaning brushes are able to get into every joint and corner (drain soil even in such a corner)
the advantage is its low weight, which you will appreciate if it encounters an obstacle
well managed to go through a 4 cm high exercise mat
by being small and thin, it can fit under most of the furniture
the option of setting the automatic cleaning option (the cleaning program can be set by the driver)
Easy to operate with the remote control, it is not a smartphone control, but without any unnecessary confusion, you can easily set up a cleaning program. At the top of the vacuum cleaner there is a simple On / Off knob.
passes easily from one type of floor to another, from a wooden floor to a linoleum or carpet without any problems
What we did not like
does not have built-in sensors to keep vacuum only in one room
from the floor you need to remove the cables (into one tangled), socks and other small obstacles
is not designed for heavily polluted areas, but rather for daily cleanliness
All iLife robotic vacuum cleaners are much quieter than competing vacuum cleaners. The more suction the vacuum cleaner has, the more noise it produces. The performance of the iLife A4s is quite large, and so does its noise. Definitely, noise is lower than with a conventional vacuum cleaner, but it is still more appropriate to let it work while you are away. With remote control, automatic vacuuming can be conveniently set and timed.
SENSORS & NAVIGATION
iLife A4s automatically moves from room to room because it does not have built-in virtual walls or other barriers to prevent it from moving. So if you want to clean in just one room, do not forget to close the door. ILife vacuum cleaners do not have any built-in cameras or sensors, so they do not memorize the map of the environment in which they work. They work on the basis of a current assessment of the situation. So if they encounter an obstacle they will do the necessary maneuvers to avoid it. If they encounter the same obstacle later, they calculate and evaluate the whole situation again. If he accidentally encounters an obstacle, he never hit it with such force to destroy or scratch the furniture.
WARRANTY
For all iLife robots, 1 year warranty. The manufacturer provides the ability to register your robot online, giving you the benefit of a 24-hour customer service.
The big advantage is its small size and low weight (2.2 kg). Easily, along with the charging base, they come under the classic IKEA cabinet or under the bed or line. You will surely find a place where it could be and not interfere.
Compared with other robots, the iLife A4 cleaning performance is really great. Compared to a classic vacuum cleaner, it lags behind, but you still find the floors well-drained. A4 is not designed to clean highly polluted areas. It is better suited for daily cleanliness. Hair, animal hair, dust clumps, and food crumbs are well absorbed. On heavily polluted areas, you can select the function of the MAX function on heavily polluted surfaces. The driver also offers a wall-cleaning function and a stain-cleaning function. The volume of the container is 0.45 liter and it is advisable to clean it after each use.
What do you want in the box?

▪ A4S robot
▪ 1 extra HEPA filter
▪ Charging base
▪ Remote control and 2 AAA batteries
▪ Adapter
▪ brush cleaning tool
▪ 2 additional side brushes
▪ Manual in English, French, Spanish, German, Italian, Portuguese, Chinese, and Russian
iLife A4s is an excellent choice for anyone who wants to try a robotic vacuum cleaner and do not want to spend too much money.