---
The popular option for shipping method is Aliexpress standard shipping. If you choose this shipping method you don`t have to deal with customs procedures or Post fees. With this form of postage, Aliexpress wants to make shopping easier for its customers. It often happened that the seller did not write the IOSS number on the shipment and the package went directly to customs clearance. The shipment was therefore unnecessarily expensive.
Unfortunately, this shipping option (Standard Shipping or Saver Shipping) is not offered by all Aliexpress retailers. But how to quickly find out if a seller offers Aliexpress standard shipping without clicking on a bunch of products? Aliexpress.com does not offer any such feature on its website. So how do you easily filter it? Fortunately, we have a simple solution for you. We have a great filter where you will know in a second which product can be sent via Aliexpress Standard Shipping.
Aliexpress Superstar – browser helper
For those of you who already use the Aliexpress Superstar add on in their browser, they have won, because they already see this feature in the categories on Aliexpress.com. You can also turn this new filter on or off in the add-on settings. For those who do not have Aliexpress Superstar, be sure to install it now, because with this great feature it will be much easier for you to shop. Give it a try and see for yourself how much time you save.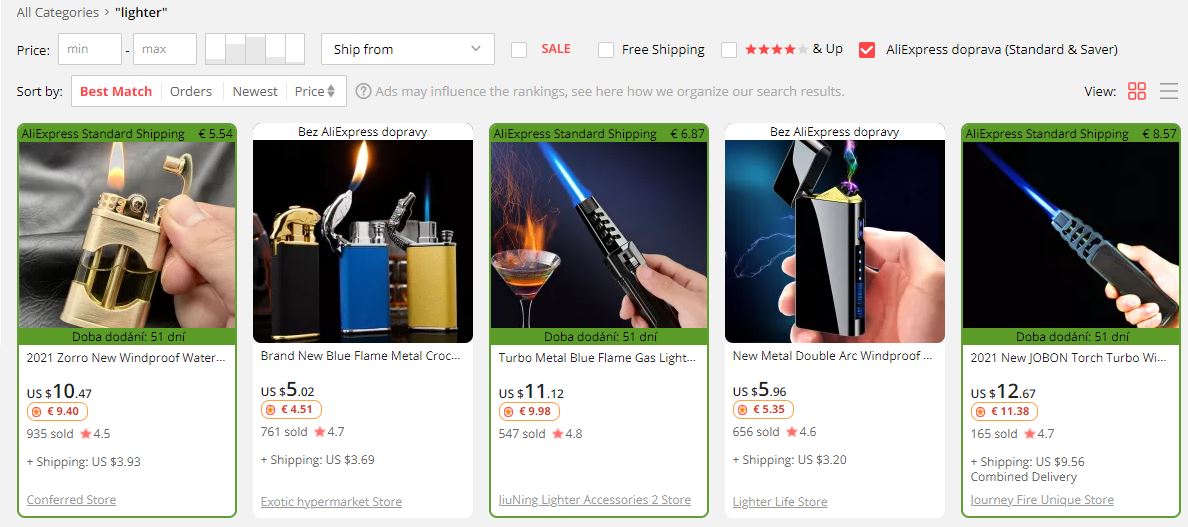 Here is an example with a lighter. Open this link to Aliexpress and calculate how long it will take you to go through all the displayed products to find out which of the products has Aliexpress Standard Shipping. We expect it to take you a few minutes. Thanks to the tool, everything was shown to you automatically. Aliexpress Standard Shipping products are marked in green. In addition, you can immediately see the price for transport and delivery time.
The Aliexpress Superstar browser add-on offers many additional features that will make it easier for you to shop on Aliexpress. For example, you can display the price history, seller's rating, monitor the protection period or search for the same goods at another seller, search according to the picture, etc.
How do I add Aliexpress Superstar to my computer's browser?
1. Open the website www.alisuperstar.com
2. Select the browser (Chrome, Mozilla, Opera, Edge) to which you want to add it
3. Click on add to browser
4. Open, for example, the link with the lighter, where you can see the displayed new function with Aliexpress standard or saver shipping
5. Don't forget to tell your friends or family about it, because you're really not the only one looking for such a great function. This will save you a lot of money and time.
What are your experiences or suggestions on how to improve this feature? Write us your opinion under the article. We will be happy for a positive comment that you like the new gadget.
Subscribe to the newsletter [newsletter_button id=1 label="Newsletter subscription"] or notification on the web (bell in the bottom right corner) to find out about new information immediately.