---
IMPORTANT: Aliexpress Day 11.11. is coming soon. From history, some of you already know, that products are not always in discount at all. Some sellers raise the prices before 11.11. so they can reduce them on the Aliexpress Day to make a fake discount. That's why many buyers have installed the Aliexpress Superstar browser add-on, that will show you a pricing history and you will see if it really is an sale offer or fake discout. More than 15,000 users are already using this tool. If you do not have this add-on on your browser, you should definitely add it NOW. You will use it on 11.11. but also during whole year. This add-on has more features, such as displaying different currencies or searching for cheaper goods from another sellers, etc. We have described all features in the article Aliexpress History and Price Comparison, and also in the video here Aliexpress Superstar.
There are still a few days until the beginning of the shopping festival, but you can prepare for that day now. This year, Aliexpress prepared pre-orders for their customers. This means that you can book your chosen goods by paying a smaller deposit, but you will pay the rest of price at 11.11.2018. Not all sellers are involved in these pre-orders. You can check out the product selection here.
We'll update the article everyday, so if you want to keep up to date, store it in your browser.
1. Rules for pre-order
You can create a pre-order by paying a deposit on your selected goods.
Each item has a different amount of deposit.
The amount of the deposit differs from the price of the product.
Keep in mind that the higher the price of the product, higher is deposit.
In picture below you see that the goods cost $ 11.67 and the pre-payment is $ 1.17.
If you want to use the Store Coupon or Aliexpress Coupon, use it before paying your order. Once you have paid your deposit, you can not use the coupon. The remaining part of the order will be paid by you on 11.11.2018. If you do not pay remaining part, the order will be canceled and the pre-payment amount will be returned to your bank account.
★ How to use discount coupons? ★
Do you want to know what is the difference between individual Aliexpress coupons? See our How To Use Discount Coupons. 
2. How to shop in cheapest way?
Did you decide to take advantage of pre-order? Even before you make the deposit, look at our tip. Below you see a product sold for $8.99 ( 7.87 EUR). Thanks to the price history graph, you can see that this is a really good price because in September 2018 the lowest selling price of this product was $10.59 (9.37EUR). So, in this case is good to make a purchase. Click on Pre-order Now and you will be redirected to the payment gateway, where you will be prompted to pay a $0.90 deposit. You need to have the Aliexpress Superstar installed in your browser to see the graph of price history together with other currency and other features. To learn how to use it, read Price History and Price Comparison.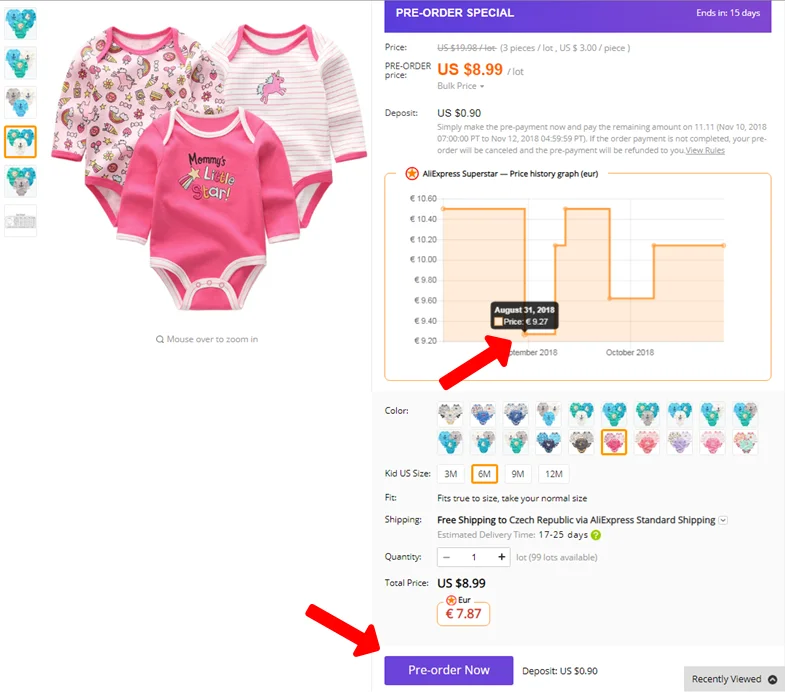 ADD TO CHROME
ADD TO OPERA
ADD TO MOZILLA FIREFOX
Once you have completed all the necessary information, you will see that the deposit will be $ 0.90 and the remaining amount $ 8.09 you will pay on 11.11.2018. Confirm your payment by clicking on Confirm & Pay.
Deposit has just been paid. And when we go to My orders, you can see the individual purchase Phases in the Order Status column.
Phase 1 is a pre-payment and the Phase 2 is a charge for price differences. At the time of writing, phase 2 has not started yet. It will only occur at the time shown in brackets below.
3. Shopping cart
If you had pre-prepared items in your cart, you might have seen notification on some products, telling you following: ( The products is currently under Pre-order for a lower price and not available for direct purchase. View Detial ). See picture below. This means that you cannot buy this product now. In this case you can make a pre-order and pay the product on 11.11.2018. But if you do not want to wait, you can find the same product from another seller who is not involved in a pre-order promotion. To search such product, please use Aliexpress Superstar Add-on.

4. Timeline of Aliexpress Day
Be carefull, as Aliexpress has changed times and date of promotions this year.  Time, which Aliexpress uses on their websites is Pacific time. Do not forget to count correct time for you Time Zone, so you dont miss pre-orders, coupons, and day 11.11.
A. Pre-order
Enjoy extra savings on your favorite items – Oct 20 00:00 PT to Nov 10 02:59 PT
B. Collect coupons
Add to cart & get coins – Oct 28 06:00 PT to Nov 10 04:59 PT
Collect badges in Gameland – Oct 28 06:00 PT to Nov 7 04:59 PT
C. Play coupon rain
Play for more coupons – Nov 4 05:00 PT to Nov 12 04:59 PT
D. Get slashing deals
Play for the selected TOP brands, and buy them for $ 0.01. Huge discounts from Aliexpress TOP 72 brands – Nov 7 05:00 PT to Nov 10 04:59 PT
Win iPhone and other products. Act fast! – Nov 11 05:00 PT to Nov 12 02:59 PT
E. Place an order to win $ 1111 in coupons
To qualify, place your order between Nov 10 05:00 PT to Nov 11, 04:59 PT. You can place your order on AliExpress app, desktop website or mobile site for a chance to win. Within each hour, Aliexpress will award the 1st, 11th, 111st, 1111st, 11111st and 111111st order placed with a US $1,111 coupon. There will only be six winners every hour. Over the course of the 24-hour promotion period, 144 individual buyers will be awarded. The coupons can be used from the moment it is awarded up till Nov 12 04:59 PT with a minimum order of US $1,112. Detailed conditions can be found here.
F. Start of Aliexpress Day
Sale starts Nov 10 05:00 PT and ends Nov 12 04:59 PT
5. Do you have a question to 11.11.? Do not be afraid to ask!
Join the discussion on Aliexpress Day  a discussion link here. If you have any questions about buying during the Aliexpress Day, then write them in a comment or discussion and we will be happy to advise you.
You can also find all the information about the events on Aliexpress. Be sure to install Aliexpress Superstar to your browser.