---
Due to current covid-19 pandemic, we received a lot of questions about FFP2 respirators from Aliexpress. We looked at which FFP2 respirators are the best-selling on Aliexpress and put together real photos with buyers' reviews.
Link to the best-selling FFP2 respirators from Aliexpress
FFP2 respirators
You can buy respirators in numbers of 10, 30, 50 or 100 pieces. At the link above, we have selected respirators that have free shipping. The respirators arrive packed together with the certificate (see pictures below). The more pieces you order, the less you pay for 1 piece of respirator.
The seller states that he sends respirators within 24 hours from ordering. We do not want to promise you any delivery time here, but we received respirators within 14 days.
The seller offers respirators in 8 colors: white, pink, black, gray, yellow, red, beige and blue. Filtration efficiency is 95% according to standards. Check everything with a specific seller.
Below you can see the certificate of inspection that the seller puts in the package and other quality certificates can be found in the product description at the very bottom of the Aliexpress website.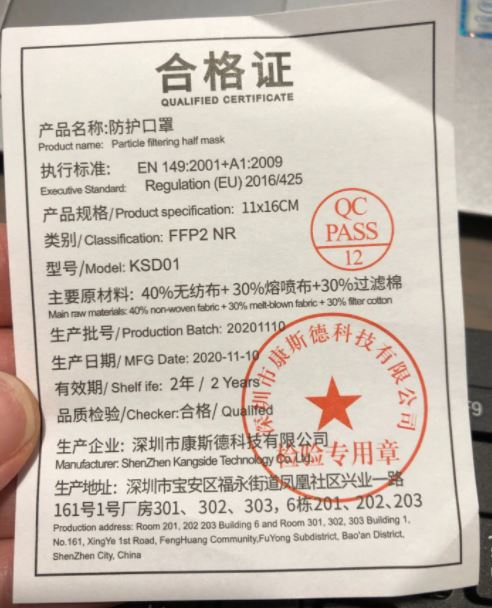 Important:
Before selecting and paying for respirators you just need to add
Aliexpress Superstar
to your add on. This add-on will
help you
with
price history, currencies, find cheaper items, search by image
and a lot more. You can safe a lot of money.
Real photos of FFP2 respirators
How a respirator looks like on the face?
The respirator fits to women and men. Size of respirator is 15.5 x 21 cm. It consists of five layers of protection and is equipped with a nose clip, which ensures a seal in the upper part of the face. The respirator is only effective if its edges are close to the face.
Comfortable to wear: Elastic earloops with no pressure to the ears.
Application: Perfect for everyday activities such as outdoor sports, walking, hiking, riding, outings, work and more.
Material: It is made from premium quality material, skin friendly, breathable.
FFP2 respirator price
If you order 5 pieces, then 1 piece will cost you about $ 0,616 and if you order 100 pieces, you will pay about 0,1914 for one respirator. It depends on the exchange rate in which you buy and the ongoing event on Aliexpress. See the current price offer directly on the Aliexpress website.
If you compare it with prices in your local pharmacies you will find out that respirators from Aliexpress are sold for very good price.
This respirator meets the conditions set by the Ministry of Health and the seller states that he has a certificate of inspection.
FFP2 respirator link
If you are interested in FFP2 respirators for children, they are also available at Aliexpress. The link below redirects you to the best-selling respirators for children.
Link to FFP2 respirators for children
Reviews of purchased respirators
"The respirator is great. It has 5 layers, is waterproof and fits very well on the face. The numbers on the mask are correct. I contacted a store that immediately sent me CE marking documents. It's amazing that I was able to buy such high-quality respirators at such a low price. I've already recommended it to my family and friends."
"The masks arrived within 2 weeks of ordering. After trying it, I was satisfied, it fits well on my face and does not pull behind my ears. The masks do not smell."
"The respirators match the seller's description. They don't bend my ears compared to the others I bought at the pharmacy. I hope I can wear them all day. Super fast transport and all great."
"We ordered white and pink and I must say that this respirator suits me. The rubber bands are soft and the respirator inside as well, so it doesn't scratch us anywhere."
You can always find more reviews and real photos in feedback section. Before ordering a respirator, you should pay attention to user reviews and product descriptions. Also, check with Aliexpress Superstar to see if the seller has an excellent fast delivery rating a reasonable prices.
Proper use of a respirator
Please make sure to use the respirator correctly.
Wash or disinfect hands. Place the mask on top of the nose with the clip facing up.
Stretch the elastic bands by the ears and adjust the respirator so that it fits you comfortably.
Press the nose clip against your nose with two fingers.
Make sure the respirator is close to the face.
You should not wear the respirator longer than stated by the dealer and dispose of it properly after use.
Beards reaching the edges of the respirator or special facial characteristics can significantly reduce the effectiveness of the respirator.
Hopefully this difficult time will be over soon.