39. History and price tracker on Aliexpress
Thursday, May 19, 2022
This post currently has no responses.
---
Whether you are an experienced shopper with Aliexpress or you are just starting out, you just need to have this add-on to your browser.
Below we describe all the features for you in detail and it is up which one will you use. You can turn on and off each function. You will see that this add-on is really good for you. It is simple and clear. And for FREE! If you like the app, rate it in the Google Store with 5 stars.
Add this Extension to these browsers on your computer (Chrome, Mozilla, Opera & Edge):
And now let's look at the add-on features. Open Aliexpress.com and find out any product you are interested in. For example here.
---
Price history
One of the most exciting features of this add-on is that it displays the price history of the items you are currently viewing. On a clear graph you can see the range of prices in the last three months. Here's an example of how this helps you save money. When you hit the chart, you will see the price and the date at which the price was sold. On the example below, you can see that the dress is currently sold at $ 9.09. Thanks to this add-on, you can see that the dress was sold at $ 8.60. So if you do not need to order the dress right now, you know that if you wait, you can buy your dress later at a cheaper price. Or, you can look at another reseller, but let's talk about it below. You will also appreciate pricing history during Aliexpress shopping festival. Every year 11.11. the largest discount shopping festival on Aliexpress takes place. Some sellers will increase their prices before this date so they can artificially reduce them on the day of the event. Thanks to the price history, you will see if the product is really at a discount or the seller is trying to get you an artificial discount.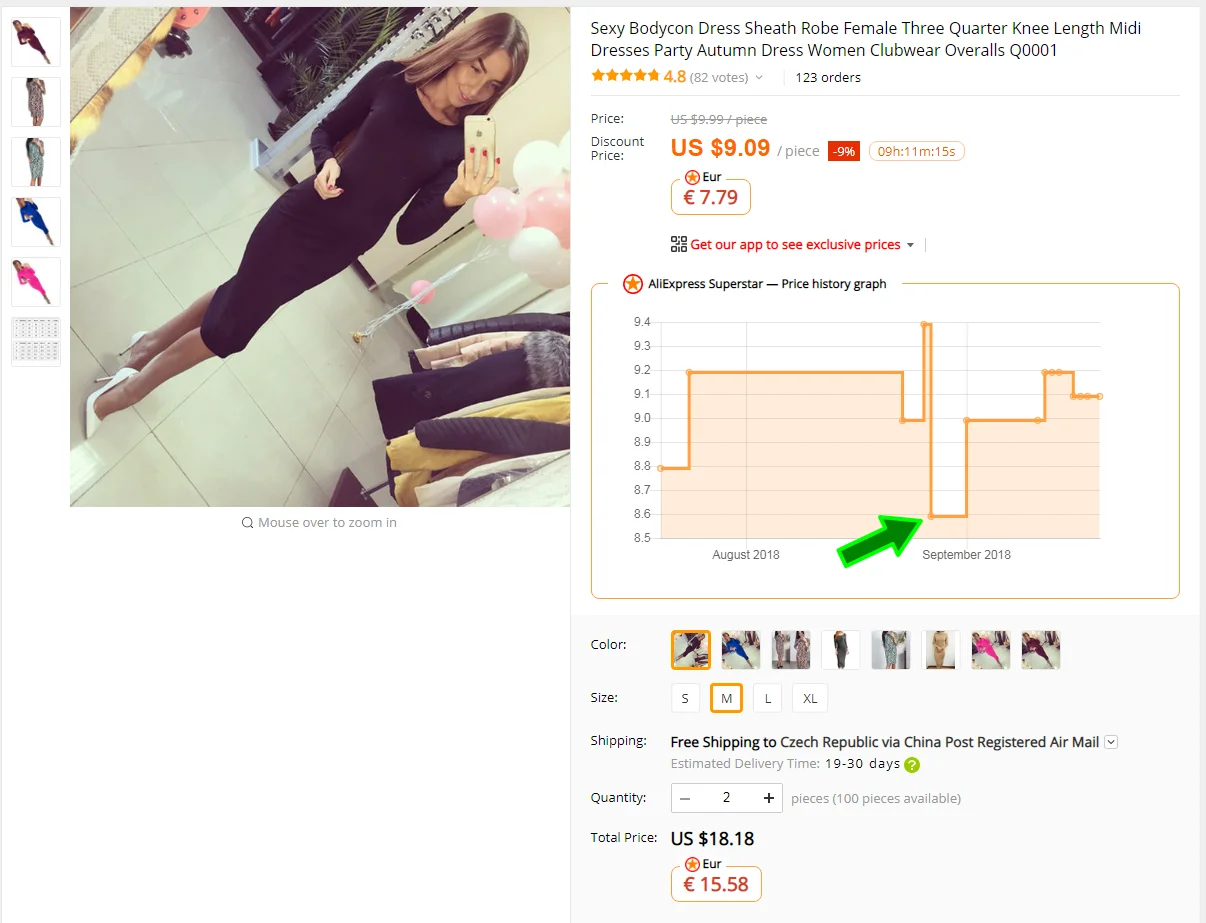 Seller rating
From our tutorials and discussions you already know that it pays to shop with great seller. But how can you quickly get to know if this seller is good or bad? After installing this add-on to your browser, you will see a smiley picture for each item with a listing of the main negative and positive facts about the seller. If the smiley is green, then this seller is fine and, considering other factors, such as price and feedback, we recommend buying it. Information about the seller are from the Aliexpress website.
If there will be yellow smiley or red smiley for seller rating, you should be more careful with the purchase and check all the necessary information. Or try to find another seller. Sometimes the red smiley is given to the seller for being registered on Aliexpress for only a short time. So it may not affect the quality of the goods.
The displayed data applies only to the seller. No, to specific goods.

Find cheaper goods
You have selected goods, but do you want to know that this is really the best price you can buy at the moment? Use a smart magnifier to find the same item from other sellers. You will see the price, number of orders and seller rating. 
You may find the same product at a much lower price or, conversely, make sure that your price is OK. This feature combined with the price history of your goods saves you a lot of money.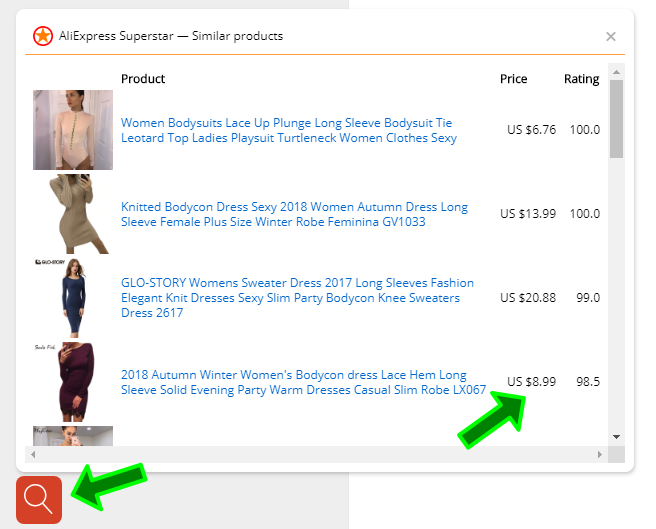 Search by image
Have you seen some items on the internet that you would like to buy, but you want to check if they sell it to Aliexpress? By right-clicking on any image on the Internet you can find the same or similar products on Aliexpress.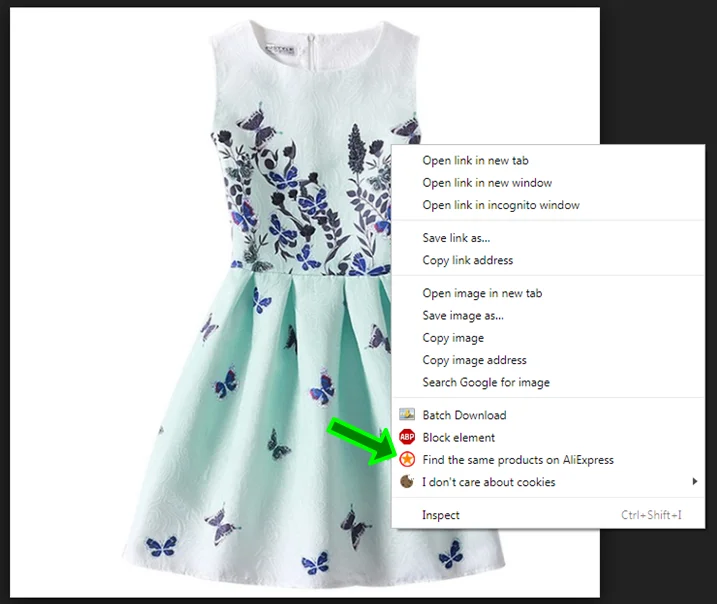 Convert of currency
Thanks to this application, you can convert currency as you need. Directly on Aliexpress you will see the price in dollars and the price in Euro, HUF, PLN, NZD and much more. It is up you what kind of currency will you choose.  At the same time, the total price for the goods will be recalculated, for example, if you order more than one piece of goods or pay postage.
What if I want to use only part of the add-on?
If you do not want to use some of the features, you can just turn it off. Click on the orange star icon in your browser and click on the setting character when the menu appears. You will see an add-on setting. The feature that is ON is marked. If you want to turn it off, just unmark the option and give the page reset (F5).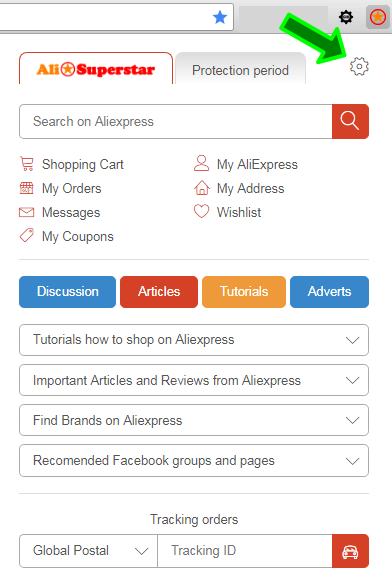 Account servicing on Aliexpress
This add-on offers many other features that you'll definitely appreciate when shopping at Aliexpress. When you click on the orange star logo in the top right corner of your browser, you will see the following menu. You have a quick search box available. Preview of your shopping cart or orders and more. You do not have to open Aliexpress, but you can click through it directly through this add-on.
Tutorials, articles, branded goods
Those who are starting with Aliexpress will certainly appreciate the well-arranged shopping guide for Aliexpress. You can also look into the discussion, interesting articles or advertisements, and of course Aliexpress. If you like to order branded merchandise from Aliexpress, you can easily find links to hidden sales by clicking on Find Branded Goods on Aliexpress. Then simply click on your desired brand.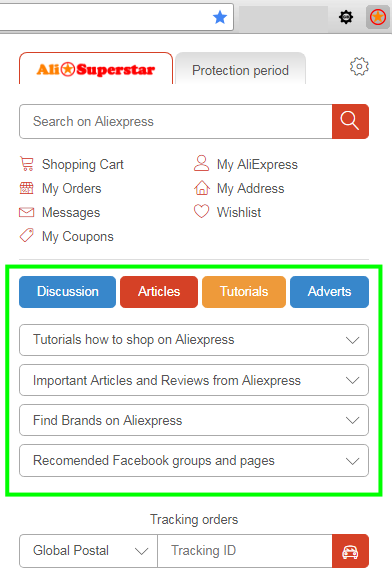 Package tracking
All add-on features serve to save you time and money. That's why you'll also find a box to find your package in your app. Simply fill in the tracking number for your order and you will automatically be redirected to the package tracking pages. There is no need to fill in anything, it only shows where your package is located.
pic: Fill in the tracking number
pic.: Your shipment information

Surely it has happened to you. The package did not arrive, but you forgot to extend the protection period or open the dispute. With this clever accessory in your browser, this is no longer the case. The app will automatically notify you 5 days before the end of the withdrawal period for each order. It can not happen that you will be able to open a dispute and therefore you will not lose money. The list of your active orders can be found in the Protection Period tab.
For each product you see the order number and the tracking number. If you click on the tracking number (car icon), you will be redirected directly to tracking the shipment. In the next column you see the price of the goods. The last column shows the time when your protection period ends.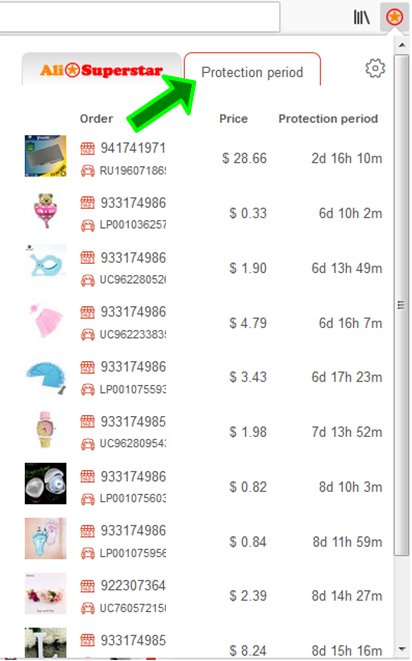 If you like at least one of these features, install this add-on to your browser via this link:
ADD TO CHROME
or directly on AliSuperstar.com.
Installation for CHROME
First install the add-on to your browser via AliSuperstar.com. Installation takes a couple of mouse clicks.
1. Click on INSTALL ADDON TO CHROME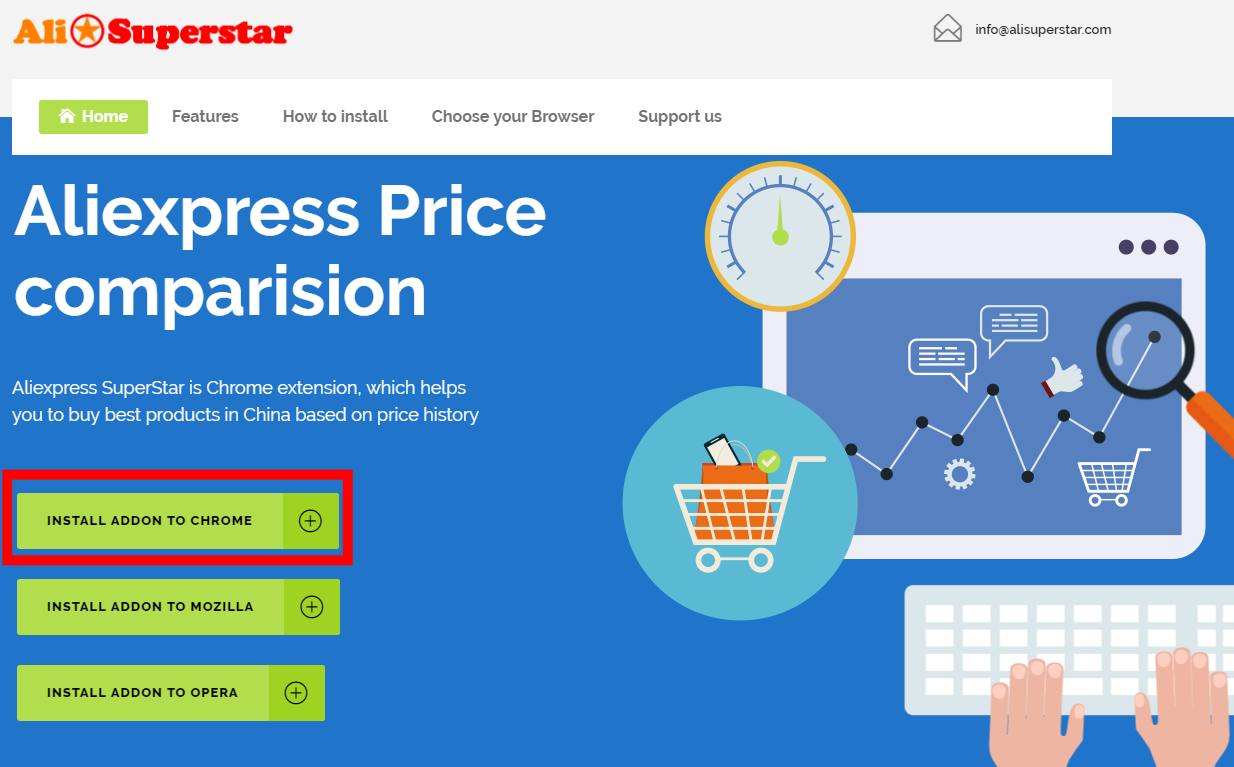 2. You will be redirected to the browser where you click ADD TO CHROME.
3. You will see this window where you click Add Extension. Then you'll see a message saying that the Aliexpress SuperStar extension has been added to Chrome. From now on, you can start using this add-on.
Installation takes a few seconds and everyone can handle it. After installation, a red-orange logo with an star appears in the top right of the browser bar. This means that you have successfully installed the add-on and you can start using it. Go to the Aliexpress page to see what's all you have now. I hope you are as excited as we are 🙂
You can add this extension also to another browsers. See this tutorials:
How to add Aliexpress Superstar to Mozilla Firefox
How to add Aliexpress Superstar to OPERA
---
---