Xiaomi Mi Robotic Vacuum Cleaner from China – Review and comparison with Roomba
Sunday, February 27, 2022
This post currently has no responses.
---
Robotic vacuum cleaners are becoming more and more part of households around the world. The most famous and respected company is iRobot, which owns the Roomba brand. Just like the iPhone, Roomba belongs to a higher price category and therefore other brands are comming to market. They can compete not only in price but also in performance.
Today, we focused on the Xiaomi Mi Vaccum robotic vacuum cleaner. The Xiaomi Mi robotic vacuum cleaner has amazing features that will beat the iRoomba 980 vacuum cleaner. The Xiaomi Mi is a high performance vacuum cleaner designed for the most demanding users and give you the most accurate information. We  have personally tried it for you. We have looked at all the features, advantages and disadvantages of both vacuum cleaners and compared them.
Link to Buy XIAOMI MI ROBOT vacuum cleaner
Design Comparison
Both vacuum cleaners have a circular design that is popular in the robot world. As for height and perimeter, Xiomi Mi and Roomba are the same. Both vacuum cleaners also have rubber wheels up to 3 cm in height to move well on uneven surfaces. Preferences on designs for both vacuum is very individual. For us, we prefer Xiaomi Mi because it has a beautiful white color with discreet controls. At home is looks really elegant and fits into every interior.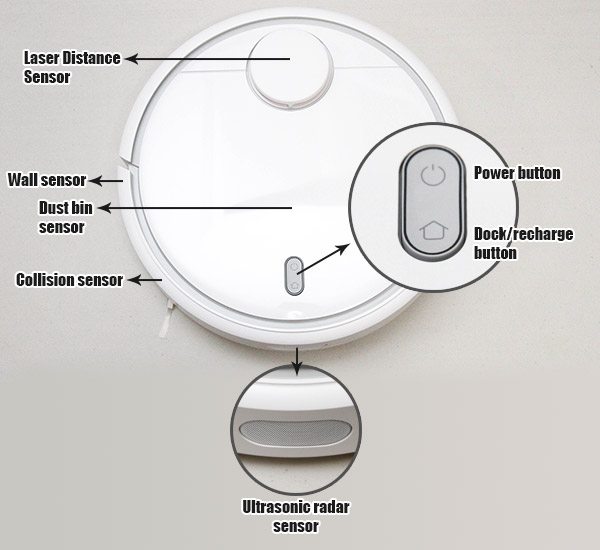 NIDEC engine and excellent brushes
When choosing a robotic brush, it's important that you look at what brushes are part of vacuum and how many of them are inside.
The Xiaomi MI vacuum robot has a central brush and a side brush for cleaning the corners on the front. This type of central brushes is ideal for cleaning carpets because their spikes are inserted into the carpet and better absorb dirt. Xiaomi Mi has a suction power of 1,800 Pa, which is well above the affordable models of other Chinese brands that reach only 1000 Pa. Its other outstanding features include a laser sensor, intelligent navigation system and the ability to control the MiHome App mobile app. The basics for every vacuum cleaner is a good quality engine.  Mi Vacuum Cleaner has powerful Japanese NIDEC engine with a suction pressure of up to 1,800 Pa and a capacity of 0.67m3 of air per minute was installed. It is one of the most powerful robotic vacuum cleaner on the market. A strong engine comes in handy on longer carpets.
Of course, it is not always necessary to vacuum at maximum power. One of the four power stages can be selected in the control application. So, if you run vacuum cleaner every day, it is enough to leave a lower set performance that goes hand in hand with a quieter run and longer operating liftime. The noise level of the vacuum cleaner varies from 62 to 68 dB depending on the set performance mode.
All dirt are trapped in a 0.42 liter container and if necessary, the vacuum cleaner warns you that the container needs to be emptied. The main brush is placed freely on the vacuum cleaner, so it can move in the vertical axis to provide the right pressure on all types of carpets and floors.
In addition, the NTCEC Brushless motor prevents energy loss and ensures that the vacuum cleaner is quieter. It reduces noise during operation and prevents mechanical vibration. In general, it is a more powerful engine that is more durable and has a higher energy efficiency. In combination with its 5200mAh high capacity battery, it allows you to reach up to 2 and a half hour range that will allow you to clean the home up to 250 square meters.
Navigation system and laser sensor
The navigation system is very important when choosing a robotic vacuum cleaner. Cheaper models continue to work with infrared sensors and vacuum the surface at random direction. This is making them less efficient. Definitelly choose a robot that has a sophisticated navigation system which ensures the robot clears the house or apartment with maximum efficiency.
Xiaomi Mi Robot has 12 sensors that allow you to create a virtual map of your home and calculate the best cleaning patterns and also find obstacles in the room to clean your house in the shortest possible time. This scanner constantly scans your home at 360 degrees angels and 1,800 times per second. These sensors also prevent fall from stairs or furniture shocks.
The map created by the LDS sensor is stored in the robot memory so that it knows what is done and what it needs to be cleaned. Wall and stairwell sensors are also very important. The gyroscope and accelerometer allow navigation in our house.
These vacuum cleaners are low enough to get under the seat in the deck or under the bed. The biggest difference Xiaomi and other vacuums brands is, that it has a laser search engine to guide the vacuum cleaner.
Navigation systems are probably the biggest difference between these two robot vacuum cleaners. iRobot has created a new type of Navigation Methodology with Roomba 980 and although it is a significant improvement over older iRobot products, it still relies on wall navigation rather than much smarter methods such as XiaoMi Mi or Neato's terrain. The winner in this category is clearly the Xiaomi Mi Robot vacuum cleaner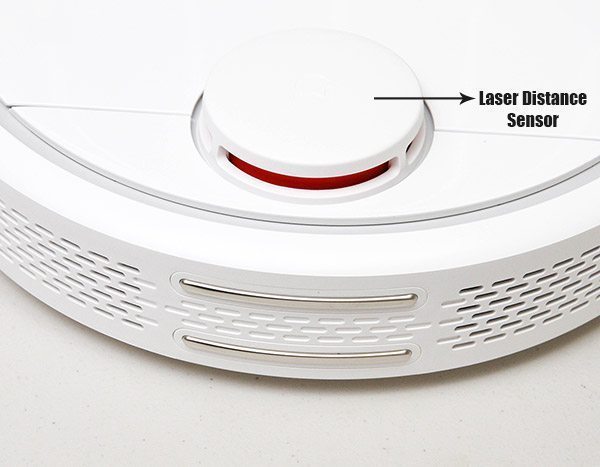 Virtual wall
If you have space at your home, where you do not want to let the vacuum cleaner, we certainly recommend buying a special magnetic tape that serves as a virtual wall. It is in a very decent shade and does not need to be powered as a competitive laser walls. It is a small magnetic tape that acts as an obstacle preventing the robot from accessing certain areas of your home. It is a technique that allows robots and autonomous vehicles to compile a map of where they are located and how to create a trajectory while traveling.
SLAM algorithm and 3 processors
Sensors are not the only thing that makes the Xiaomi Mi Robot a smart robot. Sensors are tools, but it is also necessary to process these data and sort them in order to achieve the best possible results. The Xiaomi robot includes 3 processors that manage the position data of the sensors, determine the most efficient route, and calculate the best form of cleaning. It also uses SLAM (Simultaneous Localization And Mapping) technology to help you better navigate at home area.
Vacuumm charging base, filter, and other components
Xiaomi Mi Robot has three modes silent, normal and high. It will help you to adjust the robot's power and speed to produce more or less noise. The robot returns to the charging base and automatically charges when the cleaning is complete.
In addition, if the battery is less than 20%, the robot returns to the base and recharges up to 80%. Then he returns to where he stopped and continues cleaning.
Last but not least, it has to be noted that it has a 450 ml tank and contains HEPA filters. This helps you to prevent the return of mites and other particles to your home air. The European EEP HEPA standard meets the requirement to filter at least 95% of all the particles that pass through the system. The only difference is how to set or remove a filter.
To empty roomba trash is a bit harder than the Xiaomi Mi, due to smaller trash lid on Roomba
This is how Xiaomi Mi vacuum looks like from buttom
This is how Roomba 980 vacuum looks like from buttom.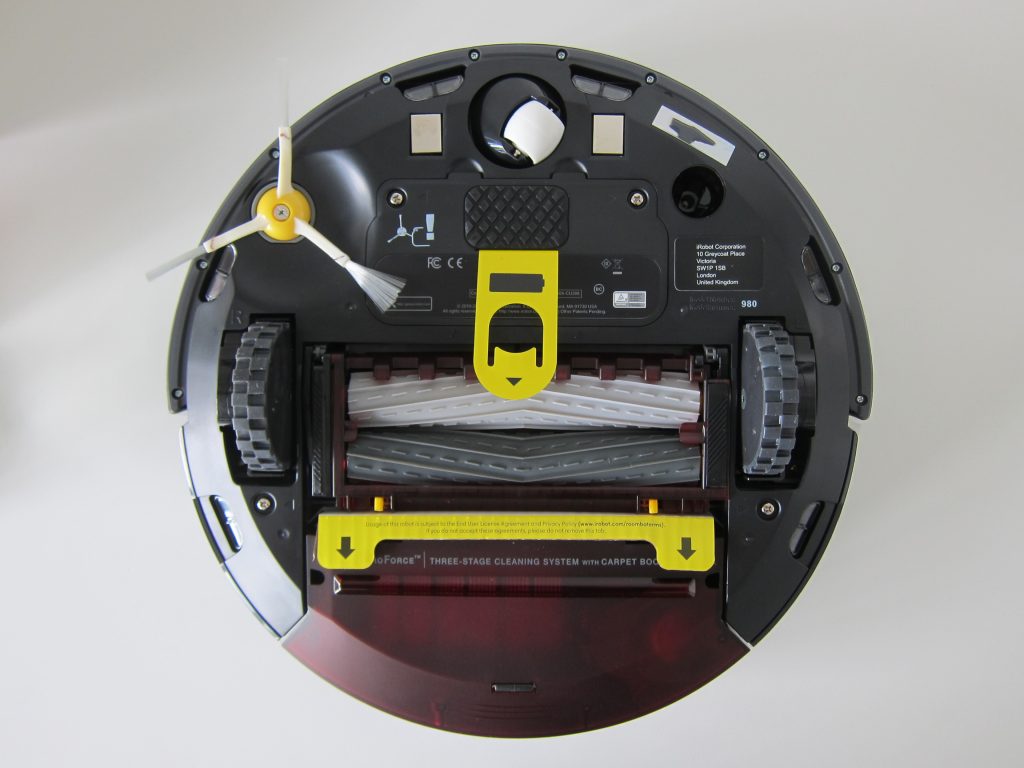 Mobile application Xiaomi mi vacuum: You control the robot wherever you are
We kept one of the most exciting features for the end of this review. We have mentioned several times the LD laser sensor, which allows you to create a virtual map of your home. But that's not all!
You can control the Xiaomi Mi at a distance using your own mobile. The robot connects over wifi so you can control it from anywhere in the world if you have internet signal. Name of App is MiHome XIAOMI
You will see a virtual map of your home on the app. You can check where your robot, how much has been done already, you can change mode on more deep cleaning, or you can send vacuum to dock. You can turn it on or off without being home. The application is simple to control, so the entire installation and connection to the robot will take you a few minutes. You will see how your kids will like to turn the robot on and off again.
Is it worth buying Xiaomi Mi Robot?
After deep analysis, we found that we can really recommend Xiaomi Mi Robot and is one of the best options of robotic vacuums. This robot has unbeatable benefits at an amazing price of around $299, in sale for $ 249 . The same robot vacuum cleaner you can buy in your local store for about $550 – $650
Where To Buy Xiaomi Mi Robot at Best Prices
If you've decided to buy a Xiaomi Mi robotic vacuum cleaner, we recommend GearBest.com. It is one of the safest international e-shops. They are offering high quality electronics at great prices. At GearBest.com you can also buy spare parts for your new vacuum cleaner XIAOMI Mi.
Link to Buy XIAOMI MI ROBOT vacuum cleaner
This robotic vacuum cleaner has become so popular in the world that they have even made special stickers for it. So if you would like to have a more extravagant design at home, there is no problem.
If you have any question about Xiami vacuums, please feel free to ask comments located in buttom of this review.
---
---